China: Why is the WHO concerned about its zero-Covid strategy?
By Wanyuan Song
BBC News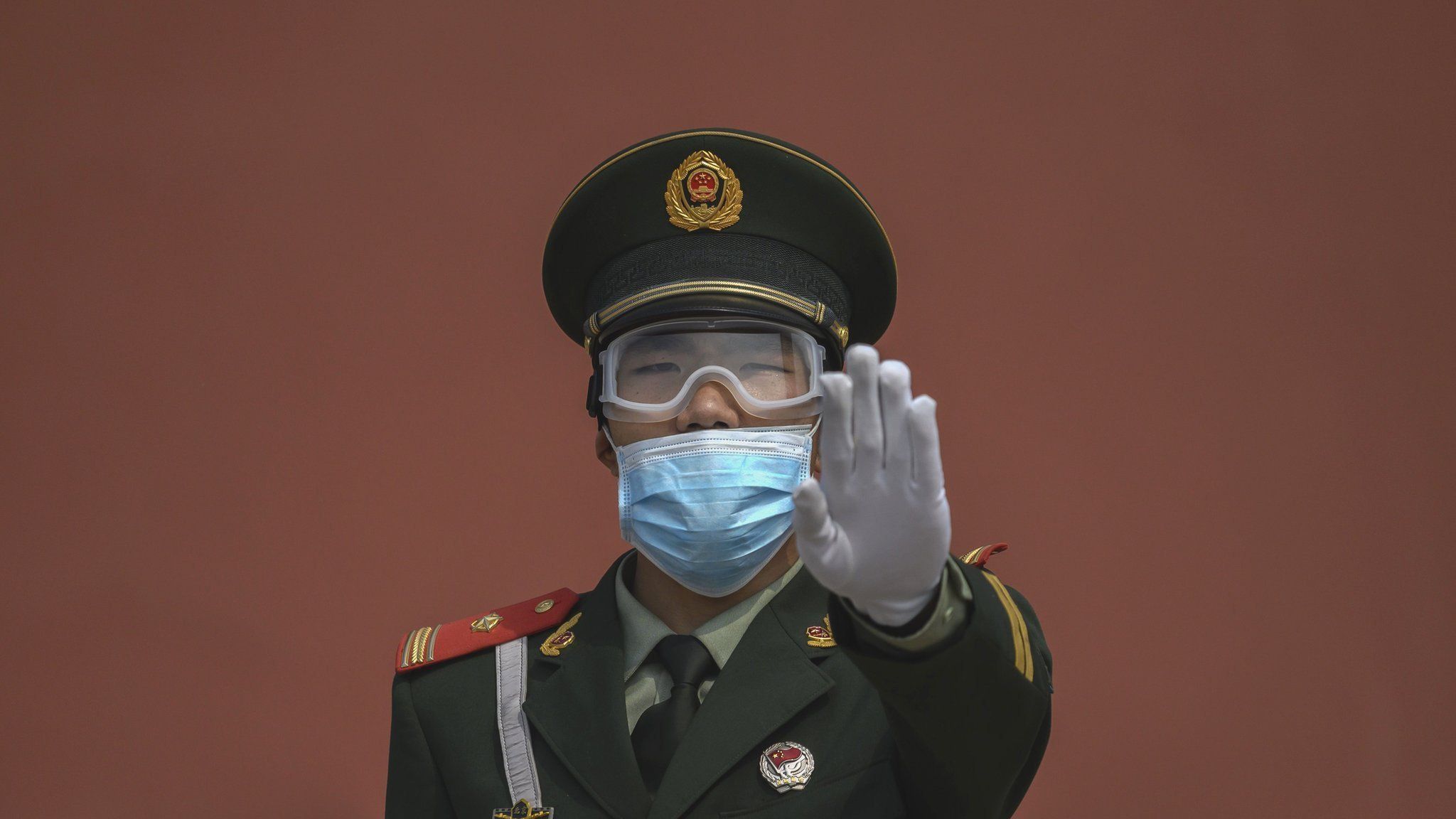 The World Health Organization (WHO) has said China should rethink its strict Covid strategy aimed at halting the spread of the virus.
While many countries are now relying on vaccination and improved treatments, China has stuck to a policy of lockdowns and other restrictions.
The WHO says that with more transmissible Omicron variants spreading, this approach is not "sustainable."
What is China's current Covid policy?
China requires cities to enter strict lockdowns even if just a handful of cases are reported – one of the toughest policies in the world.
With thousands of new cases reported daily during the latest wave, more than 60 million people have been living under some kind of lockdown.
Mass testing has been rolled out in cities such as Shanghai and Beijing, and roads have been blocked to prevent people from travelling.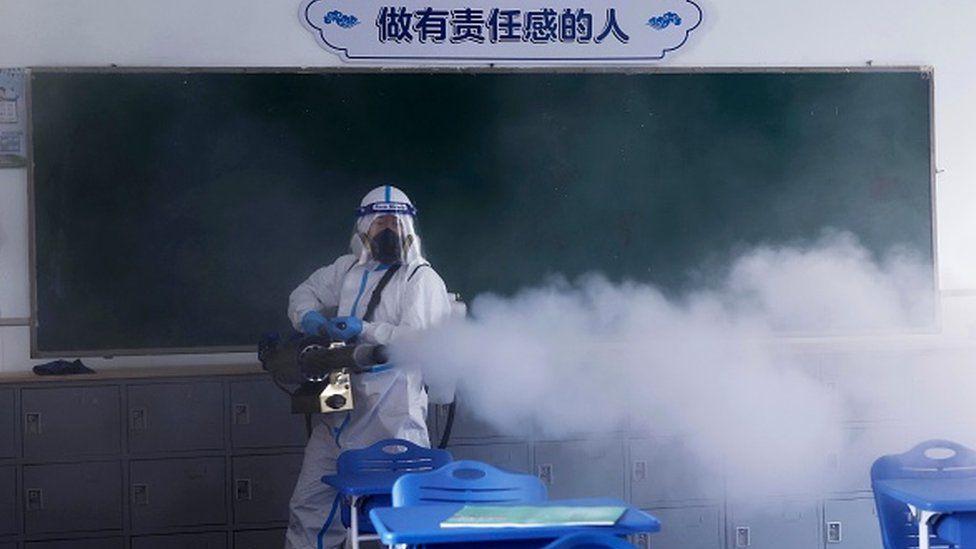 Business and schools have been closed until local authorities announce there are no infections in a city's active population.
Although the strategy is now becoming increasingly difficult to sustain, most elements remain in place:
Travel to and from China is strictly limited, and there are restrictions on internal movement
Travellers from abroad with permission to enter China are screened and sent to government-designated hotels for a mandatory quarantine of at least two weeks, followed by a further period of monitoring
Regular community testing programmes are carried out and if infections are detected, residents can be evicted and sent to quarantine facilities (along with targeted area lockdowns)
All non-essential businesses have been shut, apart from food shops and some other essential suppliers
Schools are closed and public transport is suspended, with almost all vehicle movement banned
However, some regulations have been relaxed so that people with mild symptoms no longer need to attend designated hospitals, and quarantine-period rules have been reduced.
What are the WHO concerns?
China was seen as an example of a country handling the virus relatively successfully at the start of the pandemic.
"The virus is evolving, changing its behaviour," said Dr Tedros Adhanom Ghebreyesu of the WHO. "With that… changing your measures will be very important."
Although Omicron is more contagious, it comes with a slightly lower risk of hospitalisation compared with the Delta variant, dominant since early 2021.
How effective has vaccination been in China?
The two main vaccines in China, Sinovac and Sinopharm, use inactivated virus to prompt an immune response, but questions remain over their effectiveness.
Studies suggest they provide very little protection against infection by Omicron after two doses, although they still seem to provide reasonable protection against severe illness.
Some research indicates that even with booster doses, the immune response from the Chinese vaccines may be less than other vaccines which use mRNA technology (bits of genetic code) to generate immunity.
The emergence of Omicron has made all vaccines less effective at stopping infection, although they still protect most people against severe disease.
Many countries are now relying on vaccination to mitigate the impact of the virus, rather than on measures to stop infections spreading.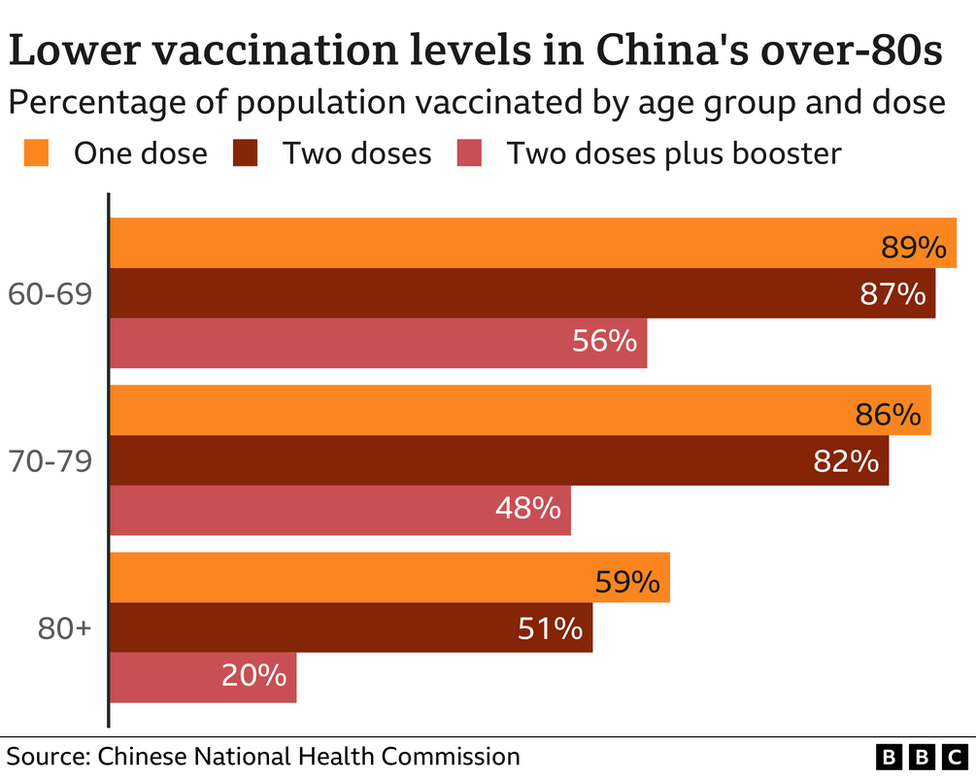 China also has a long way to go in fully vaccinating the elderly, the most vulnerable age group.
Less than 60% of the 60-69 age group is fully vaccinated, with the figures even lower for those aged 70 and older.
There has been some reluctance among the elderly to have vaccines, with many worrying about side effects or in rural areas believing that they don't need vaccines as they don't live near crowded cities.
How successful has China's strategy been?
Until the current outbreak, China had managed to maintain a low number of deaths and infections, going by official data.
If you adjust for population size, there's been around three deaths per million people in mainland China, compared with about 3,000 in the US and 2,400 in the UK.
In the current wave, the country saw a rise in daily cases throughout March and into April, so that by 21 April they were at over 30,000 per day. But daily cases have fallen since then.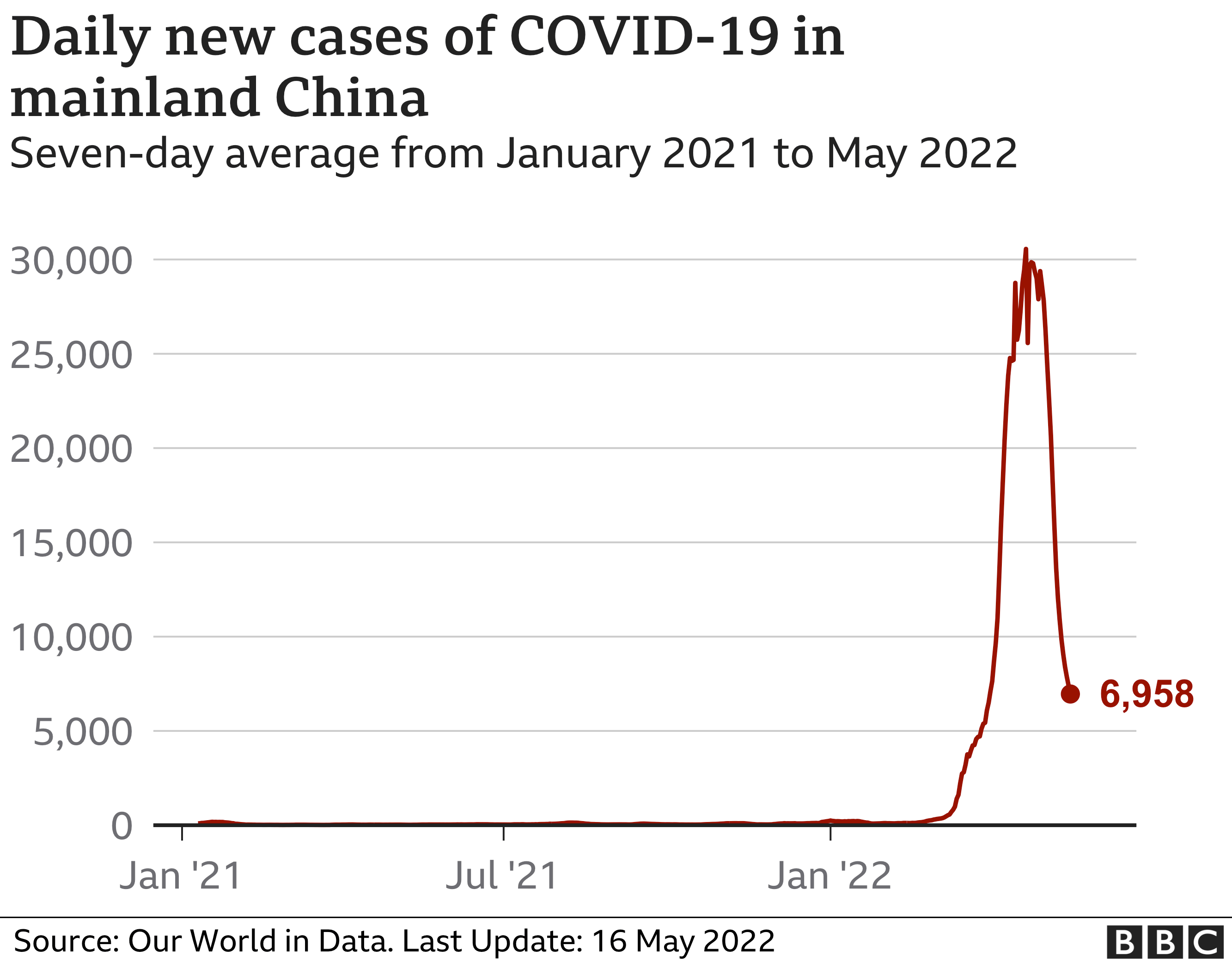 Chinese President Xi Jinping has given no indication that the zero-Covid policy will change, insisting it is "scientific and effective".
It added that the current policy is "bringing Covid-19 under control at the minimum social cost in the shortest time possible."
Additional reporting by Alison Benjamin, Rob England and Daniele Palumbo
WORLD COVID STATS
Coronavirus Cases:
530,468,153