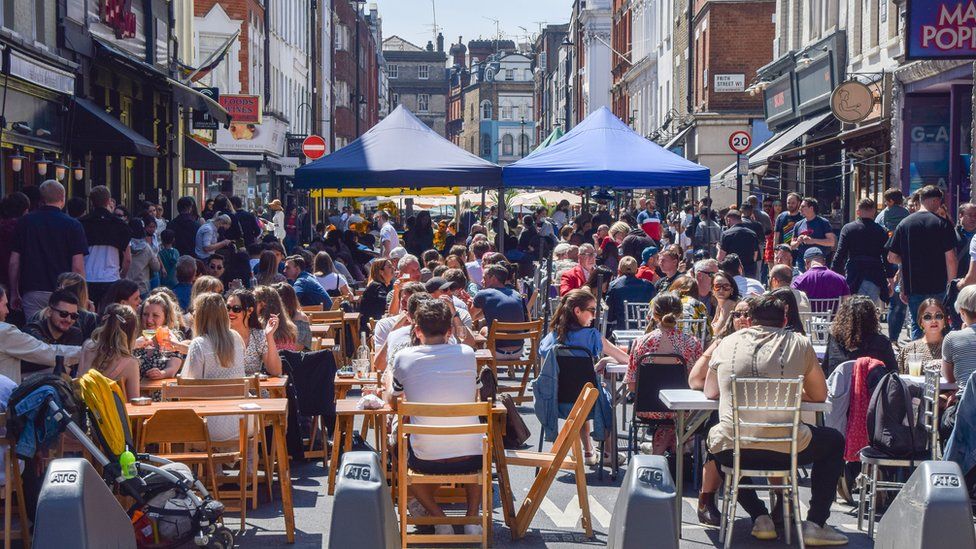 BBC- The Covid-19 epidemic in England is growing, scientists tracking it say – with much of it being driven by younger people who are not yet vaccinated.
The analysis, from the React-1 study, looked at the period 20 May to 7 June.
However, tentative signs in the latest daily data suggest growth may be beginning to slow.
The rollout of vaccinations to younger people is key to reducing further spread, researchers from Imperial College London say.
Since last year, the team has been inviting a representative sample of the population to take Covid swab tests. The researachers found:
of the 108,911 people tested, 135 were positive – a rise from 0.1% to 0.15%
most cases were among five- to 12-year-olds and 18- to 24-year-olds
the reproduction (R) number, of people the average infected person would infect, was an estimated 1.44
The number of new infections is rising, with a seven-day average of 7,888 cases. The UK recorded 9,055 cases on Wednesday – the highest number since 9,985 were reported on 25 February.
The number of hospitalisations has also increased, with 1,177 patients in hospital as of Monday. However, daily deaths remain low, with a weekly average of nine deaths within 28 days of a positive test.
Prof Paul Elliot, who directs the study, said: "We can take quite a lot of comfort from the fact that when we look in the details, it does appear that there is very, very good protection in the older ages, where there is virtually everyone double vaccinated.
"The government has clearly announced that they want to vaccinate all adults in the period between now and 19 July. That will make a very big difference and increase the total amount of population immunity."
He told BBC News that the study had found the Delta variant first seen in India had overtaken the Alpha (Kent) variant as the UK's dominant strain, and was responsible for an estimated 90% of infections.


Daily data and positive signs?

The picture presented by React is one from 10 days ago. But if we look at the daily figures published by the government, there are some encouraging signs, albeit very tentative.
Last week, cases appeared to be doubling every 10 days, but this week that has slowed to something closer to 14 days.
It still means the epidemic is growing – but it is the first sign of a flattening of cases.
This, of course, could be a false dawn. The rise in infections has largely been driven by north-west England- the top 20 local-authority areas with the highest rates are all in that region.
Infections could easily take off in other areas, speeding up the growth of this wave.
But if this slowing of growth holds, it is very positive.
Government scientists had feared rapid growth right up to 19 July.
This would drive up hospital admissions, albeit, because of the vaccines, at a lower rate than in previous waves.
It is still early days, but data is now a little more encouraging than it was.


The government has accelerated its vaccination drive, setting a new target to vaccinate all over-18s with a first dose and two-thirds of adults with a second dose by the same date.
=============================================
Double Vax UK Tourists May Avoid Quarantine
British travellers who have had two Covid vaccines could be allowed quarantine-free entry into England under plans being considered by ministers, the Guardian understands.
As the government grapples with allowing more trips abroad while trying to prevent the importation of new variants, changes are being considered to the traffic light system under which places are graded according to their Covid case and jab rate, determining whether and how people coming from them must isolate.
Only a handful of countries feature on the isolation-free green list, with 50 territories on the red list – meaning arrivals must stay in a quarantine hotel for 14 days.
The amber list, which features the vast majority of countries and to which Portugal was recently added, has prompted much more confusion. Official government advice urges people not to travel to these places, but there are no laws in place to stop people arriving from them and quarantining at home for up to 10 days, or using the test-to-release system to leave the house from day five.
Currently, travellers leaving the UK are allowed to use the NHS app to prove their vaccine status and cut quarantine in some countries.
But in a move that will be seen as further encouraging people to get both jabs, the Guardian has been told that ministers are contemplating loosening travel restrictions for the amber list to let anyone who has had two Covid vaccines escape quarantine. Those who have not been fully inoculated would still face the same restrictions currently in force for amber list countries.
Matt Hancock, the health secretary, is said to be open to the idea, according to the Telegraph. It follows an announcement by the government that Covid vaccines will be mandatory for social care workers.
The suggestion that travellers could face more incentive to get jabbed also has prompted speculation about the future of the traffic light system, and, if it does remain in place, how likely it is that travellers will be allowed to visit red list countries – given the barriers to returning from them – for the rest of 2021.
Last week, the former prime minister Theresa May accused ministers of having implemented a chaotic system of international travel restrictions. She complained: "We are falling behind the rest of Europe in our decisions to open up … It's incomprehensible that one of the most heavily vaccinated countries in the world is one that is most reluctant to give its citizens the freedoms those vaccinations should support."
Chris Grayling, the Tory ex-former transport secretary, also said the government's decisions would cost hundreds of thousands of jobs and leave the aviation industry "decimated for the future".
The former health minister Stephen Hammond accused the government of ignoring the data and making "illogical" choices about the green, amber and red lists.
==============================================
Taiwan reports 175 new local cases with 19 new deaths
Taiwan has reported 175 new local cases and 19 new deaths. The top three sources continue to be New Taipei (87), Taipei (34) and Miaoli (31). All the cases reported in Miaoli, where authorities have been responding to outbreaks among factory workers, were individuals who had already been quarantined as close contacts of earlier cases.
The central epidemic command centre said 1.13 million of Taiwan's 23.5 million residents have been vaccinated. More than 170,000 are aged over 75, according to local reporters translating the press conference.
The number of cases related to household transmissions is declining, but there are a growing number of cases in aged care homes – something seen in overseas outbreaks throughout 2020 – as well as hospitals.
Taiwan is currently four weeks into level 3 restrictions, which limit gatherings, discourage travel, and have closed all entertainment, adult, sporting and public venues as well as restricted restaurants to takeaway only.
The CECC won't be drawn on whether it will be extended again beyond the current scheduled end of 28 June, instead saying they'll make adjustments as they observe the situation.
The current outbreak in Taiwan is slowly declining, but numbers remain in the hundreds and authorities do not conduct mass testing, instead focusing on contact tracing for targeted tests. Having gone through 2020 largely untouched by the pandemic and drawing praise for its successful response, this is Taiwan's worst ever Covid-19 outbreak.